2022 National Champions

The NZRL Secondary Schools finals saw South Auckland's De La Salle College crowned as Aotearoa's champions, convincingly defeating Rotorua Boys 42-6. De La Salle raced to an early lead through left centre Kayliss Fatialofa, who scored two quick tries in the opening minutes. After finding success on the left edge, La Salle kept up the pressure which resulted in Rodney Tuipulotu-Vea scoring a double for himself as La Salle started to pile on the points. In the second stanza, the right edge of Rotorua Boys led to points as MJ Sa'olele Tavae, and Haami Herbert-Loza found success down that channel. A late consolation try for Rotorua Boys saw them on the score sheet as De La Salle scored 42-6 winners.
DE LA SALLE 42
TRIES: Haami HERBERT-LOZA, MJ SA'OLELE TAVAE x2, Kayliss FATIALOFA x2, Rodney TUIPULOTU-VEA x2, Jeshua MAA-NELSON
GOALS: Phranklyn MANO LEMAMEA
 ROTORUA BOYS 6
TRIES: Darryl WALKER
GOALS: Maraki AUMUA
MVP – Kaylise FATIALOFA
2021 Senior A Grade Champions!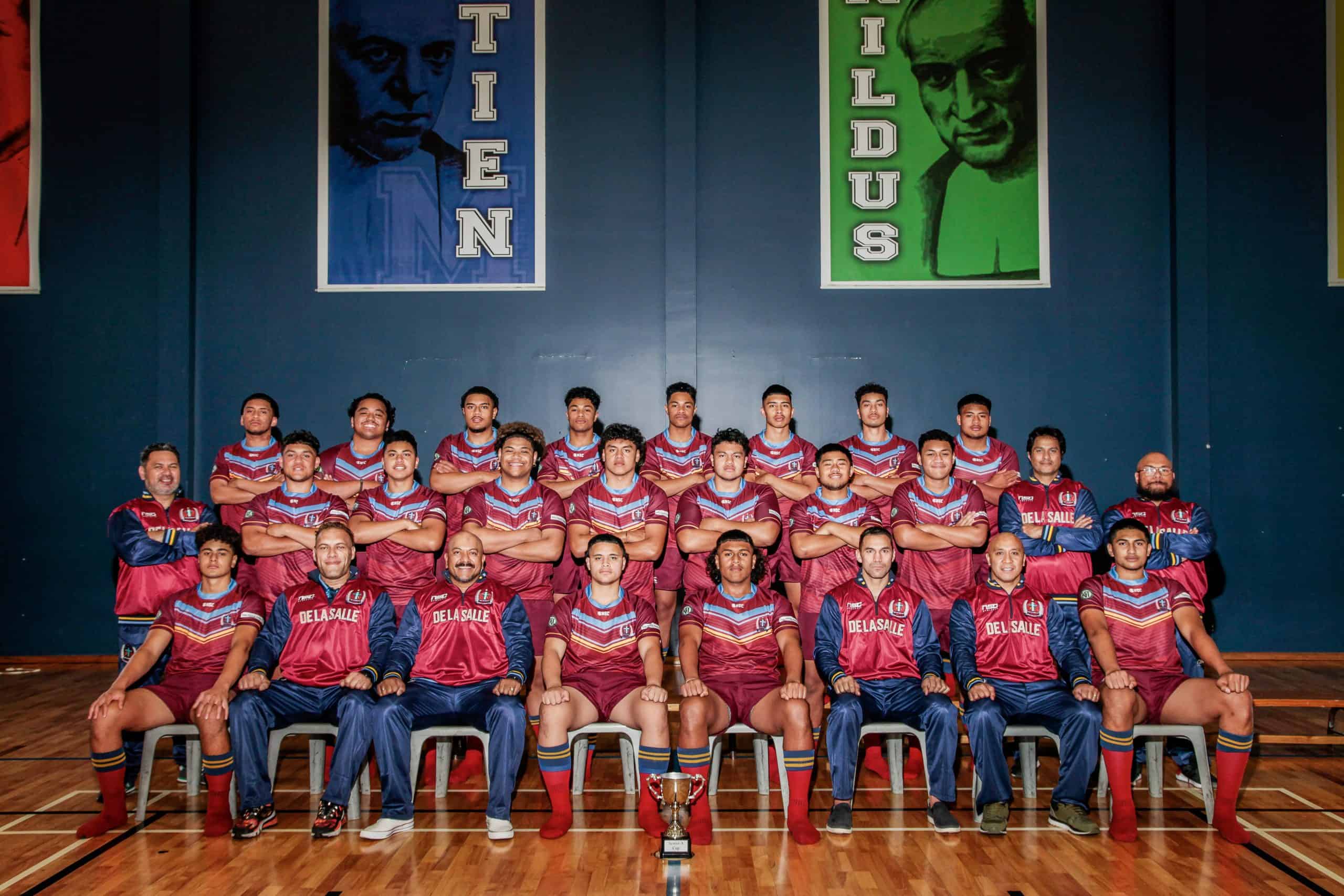 Thursday 1 July. What a special evening… Winning an A grade title, the crowd singing and cheering to show support from the first whistle to the last. The electric, atmosphere. A memory that everyone in attendance from students, family members, old boys (even those watching from overseas) to staff members will remember for a very long time. Congratulations to the 1st XIII team for their win against James Cook High in the Senior A grade final, 18 – 6.
The win means they now advance to the Premiership grade next year and play against the likes of St Paul's and Kelston Boys. Huge thank you to Stephen Paea, Motu Tony and Falaniko Tominiko who spearheaded the campaign of league returning to De La Salle and Wednesday night was a result of their vision coming to fruition. To coaches George Carmont and Lui Tia, trainers Phil Peyroux – Donaldson and Jasen Mccarthy, special thank you for the hard work put into creating a solid team, ready to battle week in, week out. Special mention to strapper, Bobby. Staff members Mr Brown and Mr Stowers-Tualega, team management. To the parents, thank you for the food, support, time and energy put into supporting the team. To the old boys, NesianStreet clothing, for the team playing jersey, Mangere East Rugby League for the use of the grounds and clubroom for home games, Ossie Letelier who livestreamed every game for those who couldn't attend and Anthony Apelu for providing Man of the Match awards. We thank you all for your service and commitment to the team and are very grateful for your support this season. Thank you to everyone who has sponsored or donated to the team. The next campaign is Nationals in 6 weeks so we move forward to that #FTGF
Wednesday 23 July. Congratulations to the 1st XIII Rugby League team for their semi-final win 26 – 6 against Otahuhu College. A tough encounter to bode them well for next week's final against James Cook High.
The game will be held at Mt Smart Stadium, field 2 at 5.30pm Wednesday 30 June.