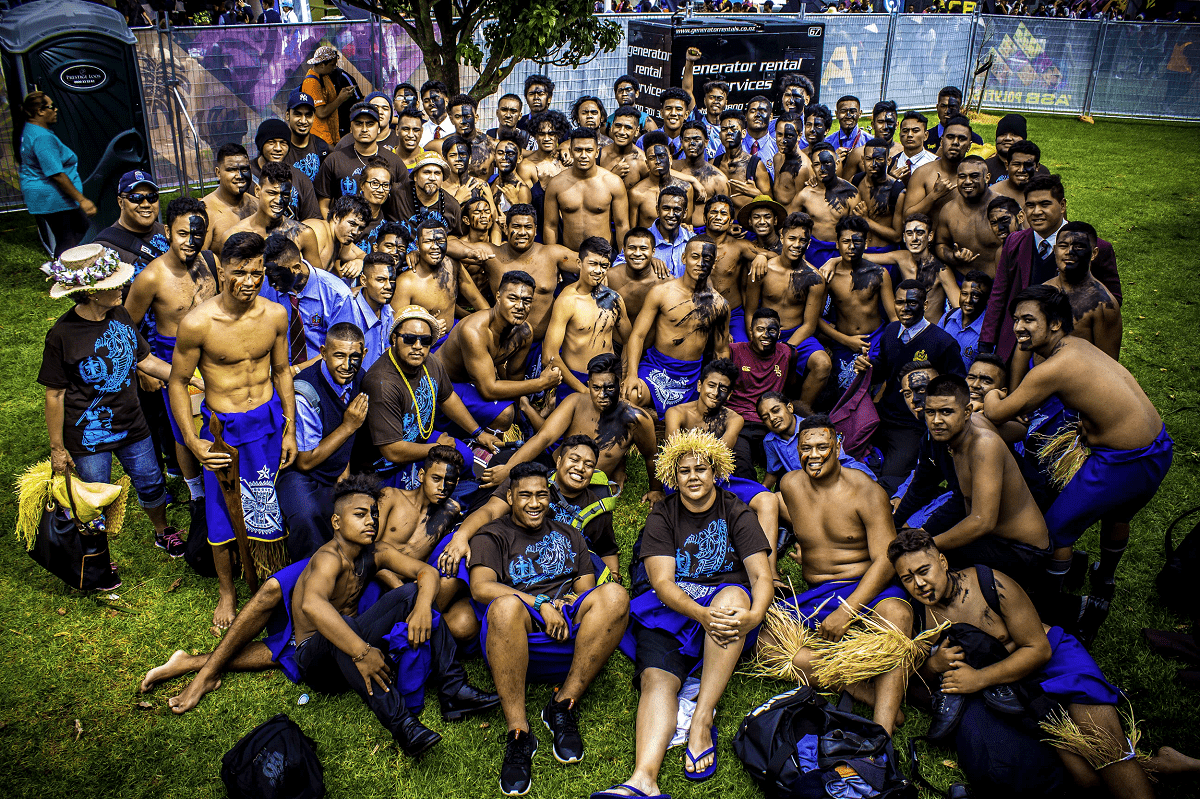 TOA LA SELLA – Niuean Group 2016
Over the last 14 years, Tau Toa La Sella have shed blood, sweat and tears in their efforts to achieve top honours. Last Friday, 68 students and 12 staff took to the Niuean stage with the hopes and dreams of hundreds of old boys, families and teachers behind them. There were nerves, tension and excitement as they took the stage – some for the very last time – as Toa La Sella. The last 7 weeks had come down to that one short moment. The boys were urged on to give their best and leave nothing in the tank and were reminded by their teachers and tutors to continually "stay humble but stay hungry".
We would like to take the opportunity to acknowledge and thank Mr Rex for his creative genius in putting together the ideas and movements, and for persevering when we just couldn't get the moves right; Mrs Hay for her direction and teaching of the songs and pronunciation; Ms Apelu for her organisational and management skills with the uniforms, paperwork, props and food; Mrs Rex for being our team Matua and assisting with practices and sewing the uniforms; Miss Teiotaata Iobu for her assistance with paperwork and supervision; Mr Tom Paulo and his sidekick Mr Steve Ahotaha for their amazing skills with Meke; Our old boys Stephan, BJ and Tyrone, as well as Justin and Fatu for their commitment, support and encouragement; Mr Tupi, Mr Hakeagatoa, Mr Faumuina & Mr Anderton for their ongoing support along with many of our subject teachers who were gracious to us when we were a little delayed with our work; and last but not least the parents that turned up to our rehearsals, helped out where they could and cut us some slack when our rehearsals ran over time.
Tau Toa La Sella placed in the following categories:
1st overall for the Kamataaga (entrance)
1st overall for the Meke
1st overall for the Tala Tuai (legend)
1st overall for the Alialiaga Katoa (overall looks and synchronicity)
1st overall for the All Boys School category
2nd overall for the Takalo
3rd overall for Male leader
And last but not least
OVERALL WINNER OF THE NIUE STAGE 2016
Fakaaue lahi –  kia monuina e Atua a tautolu oti.
---
"TOA LA SALLE", Niuean Group – 2014 Placings
Following are the placings for the "Toa La Salle" Niuean group in last year's Polyfest.
(1ST ) Aoga Fanau Taane (All Boys school)
Takalo (war dance)
Meke (action dance)
Tauteagatino Foou (Modern costume)
(2nd ) Lologo tapu (church hymn)
Alialiaga Katoa (Overall effort).
(3rd) Kamataaga (entrance)
Takitaki taane (Male leaders-Masiu Elesoni & David Tupi)
Vagahau Niue (speech competition), 3rd Senior Boys = Masiu Elesoni.
Of course none of the fine performance that is put out onto the stage would have been possible without the endless amount of time and effort put in by the following people. So a big "fakaue lahi mahaki" (thank you) and "oue tulou" to:
TEACHERS= Miss Apelu & Miss Teiotaata Iobu (our fantastic Managers), Mrs Hay (Expertise in singing), Mr Hakeagatoa (Matua taane), Mrs Rex (Ulu Motua),
SUPPORTERS= Mr Tupi
OLD BOYS/TUTORS= Tom Paulo, Steve Ahotaha, Johnnie Timu, Joziah Makai.
It is interesting to note, that from over 60 students in the group only 10 or so are of Niuean descent, so we thank all the other students of various nationalities in getting up on stage with your Niuean brothers, especially for the time, effort, and passion that they put into the group!
It is time for me to pass on the group onto the next generation of tutors. It's been a wonderful 14 years, and I've been privileged to have been part of that journey. You are all winners, Kia monuina and God bless you all.
Mr J. Richmond-Rex
Head Tutor, Group Co-ordinator